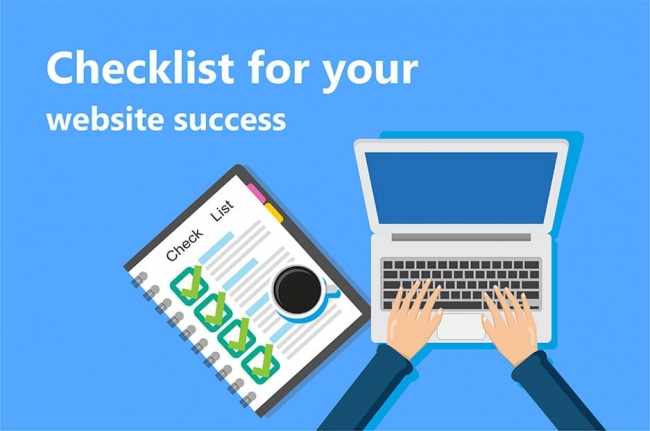 Designing a website can be a time-consuming and fairly complicated process. You need to accomplish lots of stuff to be sure everything gets done properly (choosing the right hosting, improving website's speed and much more). It is not so easy to stand out among business competitors and defeat them. They say that the first impression is the strongest. So, your website should be powerful, reliable and attractive — in short, perfect from the very beginning. But how you can keep track of important details that have a direct impact on your website's success? You're in luck! To help you sort out this issue, we at Crossbow Interactive have made a checklist we follow when working with our clients that will help you to make the project a success.
Functionality
CMS
A choice of a CMS platform for your website is one of the steps you have to take first. Pay attention to such basic parameters as fast support, scalability and flexibility, and maintaining a good reputation. The right CMS will resonate with all your needs and help you achieve success.
Hosting
In order for users to reach your web page twenty-four hours a day, you need a reliable web hosting company. The more stable this service is, the better and faster your website will function.
Speed
No one likes to wait, and your visitors are not an exception. Make the CSS compression, turn off JavaScript and CSS blocking playback, reduce the HTML file, optimize the images, videos and everything on your website that can have a negative impact on load speed.
Be multilingual
The great benefits of making your website multilingual are undeniable: you can get more foreign customers, become more progressive and professional, improve SEO, and so on.
Good uptime
Providing 24/7 uptime is one of the most essential aspects of having a site. Good website performance will help you create a positive reputation on the market and increase your сustomer database.
Security
It's impossible to reach success online while not being 100% prevented from cyber attacks, spammers and other threats. Follow all the security rules to protect your website.
Usability
Page structure
Provide a good taxonomy on your page. All information must be well-structured so that users can easily find the content they need. Add some useful options like "Search" and "Forms." The first one will allows to quickly find the necessary information on the website, and the second one is to communicate with clients, to take the orders, to register new users, etc.
Navigation
It is crucial that you have a first-class navigation system. Thanks to useful Drupal modules, your web page will have a sitemap, breadcrumbs, good taxonomy and much more. Check whether the navigation is consistent across all pages on your website.
Search
The search option should work correctly, always respond to the user on his request and be visible.
Forms
Create forms on your website that will help you communicate with your visitors, accept orders, register new users, and more. They need to constantly function and fit the design of your website. The main CTAs forms should be in sight and well-marked, and additional forms should be less noticeable, etc.
Get social
It is important to have social share buttons for a page optimization. It give your users the possibility to share your content with just one click. This also will drive in more traffic to your website. There are many great plugins for this.
Conciseness
Your style of writing should be easy to understand and spread the main message. Try to write everything on your website in a clear way so that your ideas are expressed efficiently.
SEO
General settings
Did you know that SEO changes very fast? It is a good idea to set up useful tools as Google Analytics and Google Webmaster Tools. This will help you to maintain website statistics, view traffic and effectiveness of various marketing strategies.
On-page optimization
When it comes to SEO, on-page optimization is also essential. Examples of on-page optimization include meaningful meta tags and header tags, friendly URLs, image files names with ALT text and the keywords which correspond to the content on the page, etc.
Technical details
Leave it to professionals. They should implement various configurations to your website and server (robots.txt, sitemsp.xml files) to provide search robots with important information about your site. This allows them to more efficiently crawl your web pages.
Internal links
By adding the right links, you show which content is related and what information is the most valuable. Check if their weight is properly distributed. Make sure there are no 404 errors, and the redirects are configured properly. If the internal links on your website work well, Google and your users will understand your website better. This will increase your ranking in search engines.
Design
Fresh look and feel
Is your web design intuitive? Does it gives your users the feeling you are on top of things? If not, a variety of modern themes can make any web page fashionable and easy to use.
Make it responsive
To keep your users happily engaging on your website from the device they love most, focus on building a positive user experience on mobile. Make sure your website works correctly and is equally well displayed in all browsers and on different devices (desktop, smartphone or tablet).
Calls-To-Action (CTAs)
CTAs should be provided on every page of your website. Through those prompts, you can achieve your ultimate goals. Frankly speaking, it is difficult enough to make a visitor to buy something on the first visit. So think strategically and make the offer they can not ignore. Start the dialogue by encouraging people to submit online forms, subscribe to the newsletter or continue a conversation by phone.
Make it simple
It is important not to exaggerate with multiple options on your website which can distract the users from the main message. Find a "middle ground": leave enough empty space, keep in colors balanced, and use fonts that make your page look classy.
Content
Reliable information
The content you post on your page should be credible and up-to-date. Writing truthful information is essential. Visitors want to get only fresh and reliable facts. So give them this!
Captivating headers
Be creative while thinking of the titles for your pages. Correct headings and subheadings can help your users scan more quickly and choose the content they really need. Satisfied customers are the best reward!
Keywords
Keywords and phrases are what people use looking for information that is useful and necessary via search engines. But did you know that the frequency of keywords no longer influences ranking, while their position still does? It is important to write content with relevant keywords that are naturally placed.
Multimedia content
You probably know that approximately 90% of information we perceive throughwith the help of sight. Because of Among this enormous flow of data, visual materials are the first thing we pay attention to. So, try to make your website more interactive using nice images, engaging videos, graphics and illustrations, instead of just providing boring plain texts.