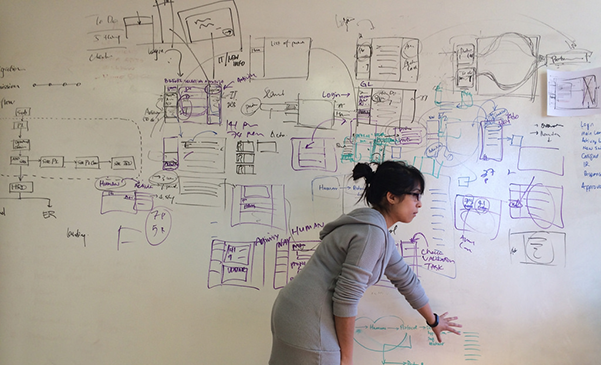 At the Intersection of Tech, User Experience, Design & Digital Marketing
A great business needs a great website. But there are still a lot of people out there who view their website more as an obligation than an opportunity. As more and more business moves to the web, having a website is no longer an option, and what you do online can have a huge impact on how your business performs.
How a site can be your best business and marketing tool, but this takes more than great technology, more than a sophisticated user experience, and more than an email marketing strategy. To make the most of your site you have to bring these three areas together to have a real impact on your business.
Development is what makes a website work. It is the technical coding side of a site that most people never see. But a good back end is as crucial as the backbone of an animal. It's the difference between a website that works and a website that doesn't. Period.
These days a website has to be more than a static page with contact information, and nothing looks more unprofessional than broken links and out of date sites. As the web becomes more and more relevant customers are changing their expectation and demanding more sophisticated websites. Therefore investing in a well developed website is an investment that is guaranteed to pay off.
A great back end also lays the foundation for everything else. A well developed site leads to an intuitive user experience, beautiful interaction design and an optimized digital marketing strategy.
User Experience is how a user interacts with your website. When most people hear User Experience they think of the visual design of a site, and maybe how the main navigation bar works. But User Experience is much more than that, it's about making sure a site is as intuitive and functional as possible.
Good UX design requires an understanding of customers' motivations for visiting your site, their goals while on your site, and their expectations about how to interact with the site. We take a dispassionate look at your customers and make recommendations and for the best site possible.
Every site has a user experience, make sure you're in charge of yours." Making sure you have a great UX design is the difference between having a site that works, and a site that works for your customers.
Digital Marketing is the final piece of the puzzle. It's all about understanding and using your site as the optimal marketing tool it is. It's about understanding how marketing is changing in a digital landscape. And it's about understanding how consumers have changed the way they purchase in the last 20 years.
The old marketing model where space was limited but attention was endless is being replaced. Online space is endless and marketing is focused on how you can attract a potential customers attention.