OpenAtrium, the Drupal-based intranet distribution from Phase II Technology, is to get an upgrade to Drupal 7 in May of this year. This means that – aside from a ground-up rebuild with new features - it will be able to take advantage of the latest Drupal 7 module developments.
OpenAtrium is an intranet based on the idea of groups to which people can be added (this is based on the Organic Groups module), and allows you to set up project groups, each of which can have their own blogs, calendars, themes – for their own look and feel – and cases, or tasks that can be assigned and tracked, together with a dashboard to provide an overview of events in your group.
OpenAtrium 'intranet-in-a-box'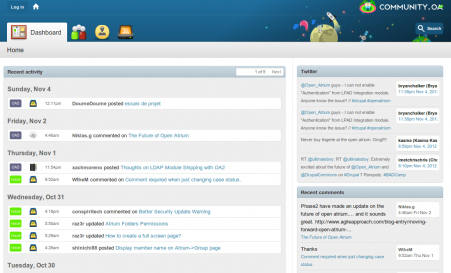 It's similar to many of the software-as-a-service offerings, but the code-base is open source so if you run a large number of projects then OpenAtrium can make sense as a solution that you own and can modify reasonably easily using available Drupal modules to fit your precise needs.
The most interesting aspect for us is the idea of 'Teams'.
A "Team" is a collection of Users, similar to Members of a Group.  A Team might indicate a user's Organization, or Department, or any other collection.  Each User can be a member of multiple Teams.  When Teams are assigned to a Section, only users who are both a Member of the Group and a Member of an assigned Team can access the Section.  This allows a Group Owner to create sections within their group with different Team access, such as Private section pages.  
For example, Mary might be a member of the New Web Site Group and might be assigned to the Project Managers Team.  The Group Owner  could create a new section within the New Web Site group and assign the Project Managers team to it.  Mary would be able to read and post content to this new section, but Bob, who is a member of the New Web Site Group but not in Project Managers would not be able to view the section.
Also See Open Atrium - Open Source Collaborative Software
Also See OpenPublic for Goverment & Pubilc Oganizations